LiveMicrobe™ Technology delivers lab-like quality to the farmer's field.
Paired with your ag biological product, our LiveMicrobe™ Technology delivers viable microbes to farmers' fields. LiveMicrobe™ solves the persistent problem of lost viability by activating the true power of microbes through a first–in-class microbe production and delivery system. 3Bar Biologics' innovative approach allows fermentation to occur directly within the packaging, generating the most viable microbes possible—with more agility and lower capital investment than current processes.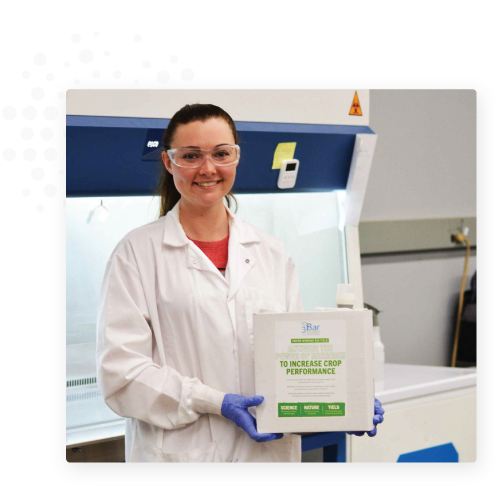 Explore our open positions and join the 3Bar Biologic's team.
We are currently providing undergrad and graduate life science students opportunities to gain invaluable real-life experience in a vibrant biotechnology company. Please contact us, if interested.
Overview:
3Bar Biologics is a cutting-edge agricultural biotech company that helps the agricultural value chain optimize their solutions for improving quality of living microbial products. 3Bar's mission is to develop state-of-the-art packaging and delivery systems that enable live beneficial microbes, while providing growers the most efficacious product at time of application and yielding step-change performance and sustainability. We are in commercial production with our first product Bio-Yield® featuring our proprietary LiveMicrobeTM delivery system, and are currently developing future formulations and products. We have a need for a microbiology technician to support our laboratory-based R&D activities. We are looking for a candidate who is scientifically curious, entrepreneurially motivated with passion and interest in changing the world.
Responsibilities:
Assist R&D efforts evaluating microbial product formulation and application. Uses culture-based, assay, and molecular tools to evaluate bacterial growth, colonization, and survival on various matrices.
Uses aseptic technique to prepare various liquid and solid growth media.
Assist set up and execution of longer-term stability testing.
Assist collection, processing, and analysis of data.
Assist with laboratory maintenance and cleaning.
Assist with production of formulations and finished goods as necessary to meet customer needs.
Lead and execute topic-specific projects as part of work.
50% Laboratory research on plant associated microorganisms and formulations
25% Data analysis
25% Lab maintenance and organization
Qualifications:
BSc/MSc in microbiology or other biological or bioengineering-related discipline with appropriate experience. Laboratory experience with microorganisms and using aseptic technique required. Experience conducting laboratory research, knowledge of plant beneficial bacteria, and data organization and analysis desired. Attention to detail and ability to work safely in a lab environment is essential. Excellent oral and written communications skills is desired. An interest or background in agriculture is desired. Must be self-motivated and prepared to learn and adopt new techniques as needed.
Location: We are located in the Rev1 Ventures incubator facility at 1275 Kinnear Road, Columbus OH
Contact: Please send inquiries to janefife@3barbiologics.com